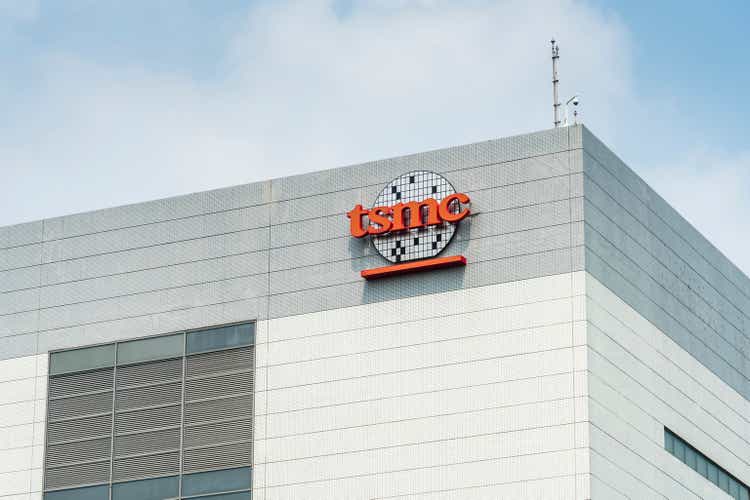 Thesis
Taiwan Semiconductor (NYSE:TSM) has been in focus lately, given House Speaker Nancy Pelosi's recent visit to Taiwan. However, the market was unperturbed by the so-called "political risk" of holding TSM, as it held its July lows firmly.
We updated investors in a June update that TSM could fall further as we had yet to observe a critical buy trigger. Accordingly, TSM fell nearly 13% to its July lows before forming its long-term bottom. Coupled with our view that technology stocks have likely bottomed, we are confident TSM should hold its July lows resiliently.
As a result, we are ready to upgrade our rating on TSM. Notwithstanding, we need to highlight that we don't expect TSM to outperform the market over the next few years (at the current levels), despite its dominance in the leading-edge process. Therefore, investors are encouraged to adjust their expectations and their exposure accordingly.
Despite that, we still think TSM is a solid core holding for semi investors and represents an attractive opportunity at its long-term bottom. However, TSM appears to be overbought in the near term, so a pullback is expected. Therefore, investors can consider a retracement first before adding exposure.
TSMC's Strong Guidance Assures The Market
Despite the recent semi downturn, TSMC remains confident in its outlook. The company's high-performance computing (HPC) segment continues to grow rapidly, overtaking smartphones as the company's most important segment.
TSMC also demonstrated its confidence, highlighting a robust revenue growth outlook over the next few years. CEO C.C. Wei accentuated (edited):
TSMC's CapEx and capacity planning are always based on the long-term structural market demand profile, not near-term factors. We will manage our business prudently through the near-term uncertainties, and we remain highly confident in our long-term growth outlook. TSMC is well positioned to capture the strong multiyear growth from the favorable structural megatrend of 5G and HPC-related applications and deliver profitable growth for our shareholders. We reiterate our long-term revenues to be between 15-20% CAGR over the next several years in U.S. dollar terms. (TSMC FQ2'22 earnings call)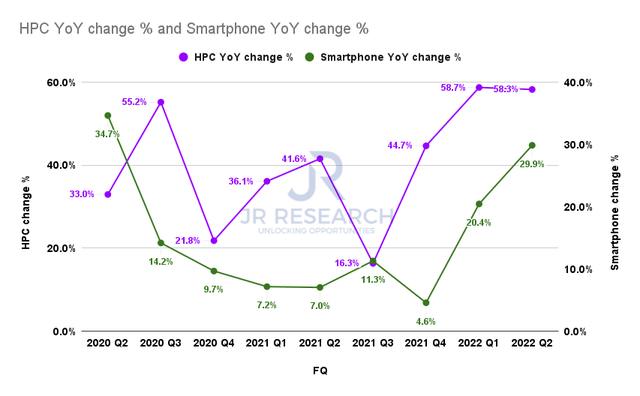 As seen above, its HPC segment grew by 58.3% YoY in Q2, following Q1's growth cadence of 58.7%. In addition, TSMC's smartphone segment continues to demonstrate resilience despite the consumer spending slowdown, as it grew by 29.9% YoY. Management is also confident about the strength of its smartphone business, given the increasing silicon content used in 5G devices. C.C. Wei articulated (edited):
5G smartphone carries substantially higher silicon content as compared to 4G smartphone. While the device unit growth of many electronics devices may be flattish to low single-digit percentage range, in the next several years, the silicon content growth will be higher, in the mid-to-high single-digit percentage range, and support the long-term structural semiconductor demand and increase our addressable wafer demand. (TSMC earnings)
But, TSM's Battering In 2022 Is Justified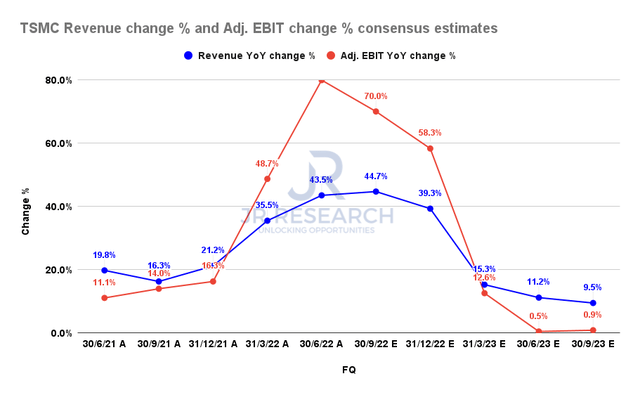 The consensus estimates (bullish) suggest that TSMC's revenue and profitability growth could likely peak in 2022 before moderating markedly through FY23. Coupled with management's guidance, we believe the estimates are credible.
Therefore, we believe the market has astutely adjusted its expectations on TSMC, de-rating its stock to account for higher risks of holding through challenging comps.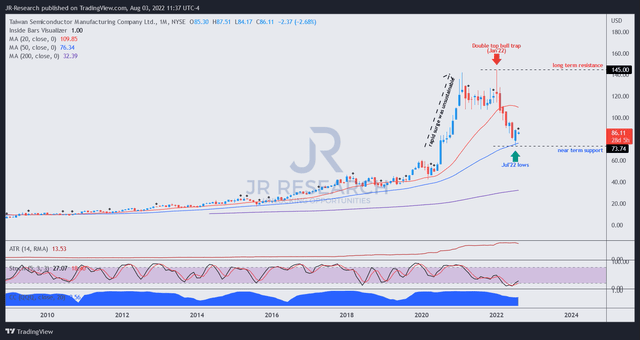 Despite that, we believe TSM likely bottomed out in July, as seen in its long-term chart. We were awaiting whether dip buyers could appear to support the buying upside above its critical 50-month moving average (blue line).
Despite the double top bull trap (indicating the market denied further buying upside decisively) in January 2022, we believe the digestion is near completion after close to a 50% drop from its highs.
Given the potency of its long-term bottom, we are confident that TSM should hold its July lows robustly.
Is TSM Stock A Buy, Sell, Or Hold?
We revise our rating on TSM from Hold to Buy.
We believe the market has got this right, de-rating TSM in H1'22, as growth could slow dramatically in FY23, given challenging comps from 2022. It's also in line with management's guidance, as the Street expects FY22's revenue growth to peak.
Notwithstanding, we urge investors to remember that the market is a forward-discounting mechanism. Therefore, we believe the market is already looking past the slowdown in FY23, given the structural drivers underpinning HPC and 5G moving ahead.
Despite that, our internal valuation models suggest that TSM is at most a market-perform at the current levels (including dividends). Therefore, investors looking for potential outperformance should consider waiting for a pullback first, as TSM is also overbought in the near term.
Go to Source
Author: