Zimbabwe experienced Internet service slowdowns during the Yellow Sunday rally held on February 20 in the nation's capital, Harare.
The Yellow Sunday rally was the launch campaign for the Citizen's Coalition for Change party which seeks to unseat the ZANU-PF party, and was formed last month by Nelson Chamisa after he was declared to not be a legitimate ruler for the long-time opposition group Movement for Democratic Change.
This meant that Chamisa was no longer allowed to use the MDC headquarters or receive state funding.
The rally launches the campaign for the CCC, with elections for over 130 vacant parliamentary and council seats to be held on March 26. Thousands turned up to support Chamisa wearing the CCC party colors.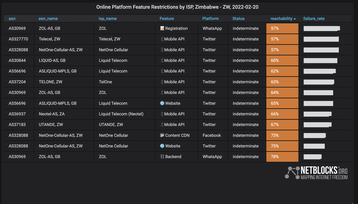 The service-slowing affected several Internet providers, with many reaching low reachability rates of 50-60 percent.
NetBlocks, the cybersecurity and Internet governance watchdog, Tweeted that "the incident is likely to limit live streaming and access to online content."
The cause of the disruption has not yet been identified, however NetBlocks stated that the "metrics are potentially consistent with the slowing, or throttling, of service."
NetBlocks has reported on similar disruptions in Zimbabwe during planned protests in the past, in order to limit real-time coverage of the event.
Such attempts to limit transparency during the Yellow Sunday rally were anticipated by CCC representatives. Official CCC press passes were created to enable unlimited access to journalists at the event. While reported abroad, the rally was not covered by the state-run national news provider ZBC. The slow-down prevented live coverage from being widely spread.
This most recent slowdown comes just a week after Zimbabwe's leading fixed Internet Service Provider ZOL announced a 10 percent excise duty on Internet and VOIP services. Excise duties are usually used to discourage the consumption of specific goods or products, such as alcohol, tobacco, and energy.
Similar shutdowns, though confirmed to be government-initiated, have occurred recently in Kazakhstan.
Go to Source
Author: